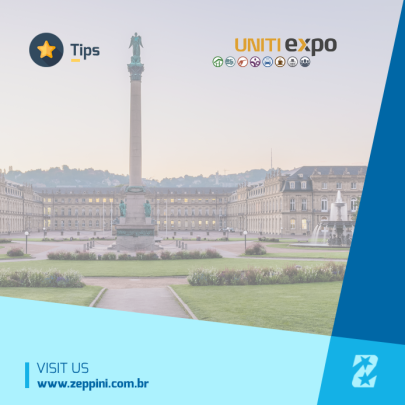 On May 15, 16 and 17, Zeppini Ecoflex will be in Stuttgart in Germany to participate again of the UnitiExpo event.
Our team prepared some tips for you that want to visit the event, so you can enjoy the a little the city of Stuttgart and make the most of your visit at UnitiExpo.
In the city of Stuttgart:
A great option for those who want to get to know Stuttgart is to visit the castle square. The square houses the luxurious Neues Schloos (New Palace) castle, one of the city's postcards, built between 1746 and 1807.
In addition to the famous castle, the region also has many good restaurants, shopping centers, museums and old architecture, making it an excellent option for those who want to enjoy the landscape, go hiking and take pictures.
With luck, the visitor will also be able to see one of the many cultural events held there throughout the year.
In the UnitiExpo event:
The event is only in its third edition, but has presented significant growth numbers. This year the exhibition area will increase by 20%, covering 40.000m².
Therefore, it is important that visitors program in advance the companies that they want to visit and confirm their location in the event directory.
The Petrol Stations equipment companies will be located in the Hall 5C. Do not forget to schedule your visit to the Zeppini Ecoflex booth number 50 to know all our news.