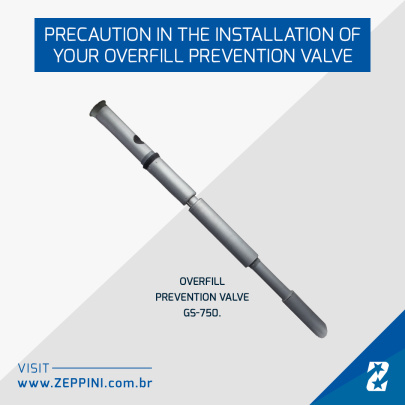 The Overfill Prevention Valve – GS-750 is an equipment installed inside of the Underground Fuel Storage Tank and has the function to prevent the overflow and accidents during fuel discharge operations.
Zeppini Ecoflex has a Overfill Prevention Valve, which closes quickly and safely when the fuel reaches 95% of the Tank capacity.
For this equipment to operate efficiently it is important that some precautions are taken during the installation.
An important precaution is that the equipment must not be installed in Underground Storage Tanks that use drop tube, a very common characteristic in older Tank models.
Another important precaution is that the upper and lower valve modules must be dimensioned correctly, according with the manufacturer's instructions, ensuring that the closing float is at the correct height and are triggered by interrupting the discharge process to 95% tank fill.
When installing in systems with remote discharge, it is necessary to make sure that the hole of the upper module of the Valve is aligned with the entrance of the HDPE pipe of the remote discharge system.
It is important that no additional cut is performed on the body of the equipment.
Learn more about the Zeppini Ecoflex Overfill Prevention Valve – GS-750 in: http://www.zeppini.com.br/site/en/produto/59/valvula-antitransbordamento–gs750
And if you need any help contact our team.